Waking Up With Neck Pain: 5 Easy Exercises to Deal With My Torticollis
Neck pain in the morning can be a sign of torticollis and while it's not necessarily serious, it can be painful. So what can you do about it? Because stress is the number 1 cause of neck pain, relax with 5 exercises that can be done on a daily basis. As a bonus, learn some tips to relieve yourself quickly and avoid recurrences.
Tips to Prevent Neck Pain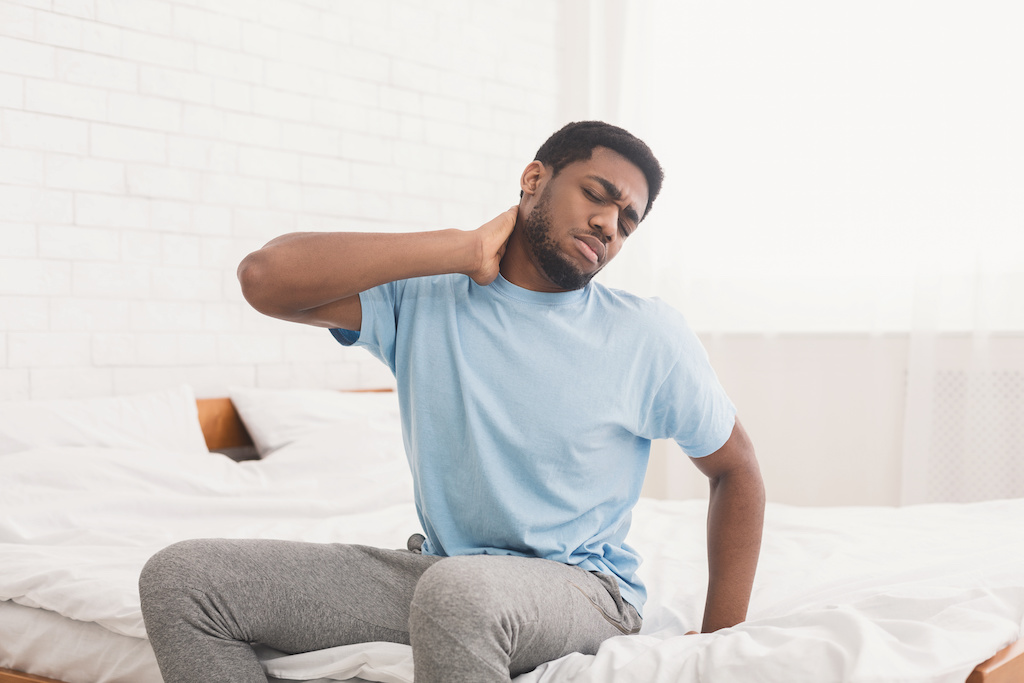 To get rid of your sore neck, check out our easy-to-use tips: heat, oils and self-massage are all part of the programme.
A Little Warmth to Relax the Neck
Heat has a relaxing effect on the muscles. To relieve a stiff neck, direct a jet of hot water at the back of your neck or relax in a bath up to your neck. Adding a handful of Epsom salt will also help to relax your cervical vertebrae. A heating patch placed directly on the skin is effective for the rapid relief of neck pain. Otherwise, a damp, warm towel, a hot water bottle or the gentle heat from a hairdryer will do the trick.
Massage Your Neck with Essential Oils
Plants can also help you fight neck pain; with their essential oils, you can greatly increase your chances of calming torticollis. If you are in a hurry, try tarragon essential oil. It almost instantly neutralises the pain. To dilute them, as they cannot be used in their pure form, opt for arnica or calendula oil. If you look in your medicine cabinet, you may find a bottle of wintergreen, cryptomeria, St. John's wort, camphor or rosemary essential oil. All these plants are ideal for treating torticollis.
Self-Massage to Relieve Torticollis
A neck massage should help relieve your neck pain. If you're interested in trying this technique, simply hold your left elbow with your right hand. With your left hand, grasp your trapezius to massage it. Using a little arnica oil will increase its effectiveness. Repeat with a change of hands to relax the right trapezium.
5 Anti-Torticollis Exercises to Try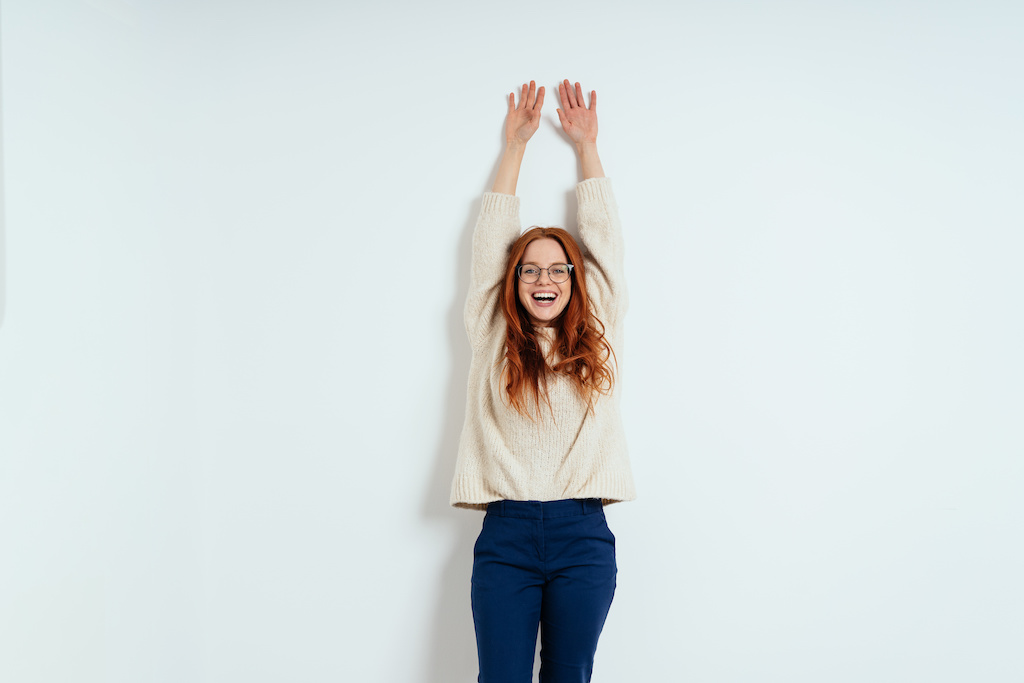 When you have torticollis, unless you are totally immobilised, the best thing to do is continue moving! Qi gong, which combines slow movements with breathing exercises, and other simple movements such as stretching will help you to relieve your torticollis without the risk of further straining your neck :
This qi gong posture is ideal for relieving tension in your neck:

Sit on a chair with your feet flat on the floor.
Turn your head from left to right, stretching your neck as you breathe in, then hold it still.
Slowly return to the initial posture as you exhale.
Tilt your head back and forth. Your chin will touch the base of your neck before rising as high as possible.
Then tilt your head from left to right as if you wanted to touch your shoulder with your ear.
Do a minimum of 4 sets.
Also derived from qi gong, this movement resembles wing-flapping in slow motion:

Standing with your legs hip-width apart, stretch your arms horizontally on each side of your body, turning your head to the left.
Make a slight wave of the arms from top to bottom. Your arms should not rise above your ears when moving them up and should graze your thighs when they go down.
Release your arms along your body for a few seconds and then start again, turning your head to the right.
Complete a series of 6 movements.
Relax your cervical vertebrae with this sequence. Here we go:

Inhale and raise your shoulders high.
Hold the movement and your breathing for a few seconds and then release your shoulders in one exhale.
Repeat these movements several times to feel the benefits.
Relieve your torticollis with this simple exercise:

Put both hands behind your head.
Tilt your head forward.
Then accentuate the movement slightly by pressing the head with your hands.
Relax your spine and neck:

Extend your arms and spine as if you were reaching for something high above you, climbing up one hand after the other as if you were climbing a ladder.
Then lower your left shoulder and bring your head to your right side and then forward.
Hold the stretch for ten seconds and release slowly before starting again twice.
Say Goodbye to a Sore Neck Once and for All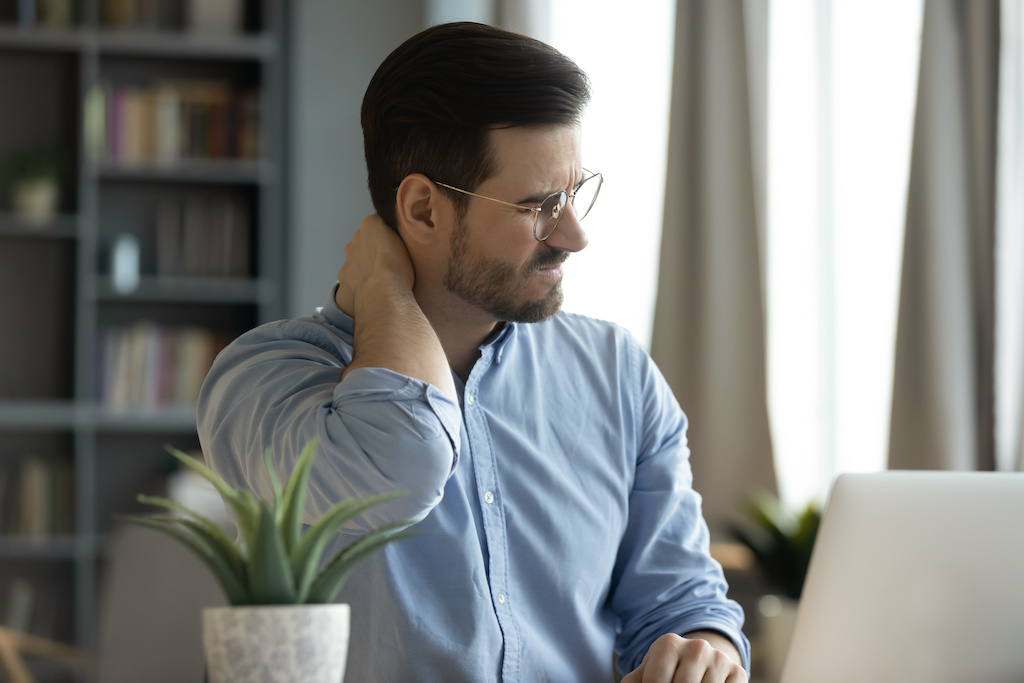 Whether its origin is known or not, getting rid of torticollis is only the first step. Preventing further pain requires new habits to be adopted on a daily basis:
Take regular breaks during the day if you work at the computer and take advantage of this time to do 1 or 2 neck stretches.
Breathe to relax your neck muscles. Directly connected to the rib cage, they will relax naturally.
Adjust your office chair for comfort.
Position the headrest of your car seat so that its upper part is at the same level as the top of your head.
Use an ergonomic pillow to keep your head and neck aligned while you sleep.